Hi, there! I decided to play along with the latest
Card Patterns
Sketch this week- I love the sketch and was introduced to this AWESOME challenge blog through my fellow Market Street Stamps design team member
Tracy
who is also on the Card Patterns Design Team!
Here is the sketch this week:
And here is my card:
I love this one- I made it for my sweet niece and will be sending it her way around Easter time! Some of my favorite patterned paper on this one- PTI's Library Ledger (the aqua pattern) and PTI's Distressed Dots. And I scored around all the edges for a little more detail. The super cute bunny and sentiment are from the Jellybeans set from My Cute Stamps! And I gave up some of my wooden buttons on this one, too- that makes it extra special! Hehe!
A little personal stuff, too, today! Last Wednesday I took a leap and joined Weight Watchers. I'm doing it online, tracking all my food and activity and making some great, healthy changes to my diet. I had started to eat a little bit like a slob... nothing good, pretty much all junk. I already feel better, people. I have so much more energy and have kicked that slugish feeling to the curb. So... here's a peek at what I had for breakfast... yum.... yogurt, berries, and Kashi Go Lean Crunch Honey Almond Flax.... yum... and only 5 points my fellow Weight Watchers.... haha!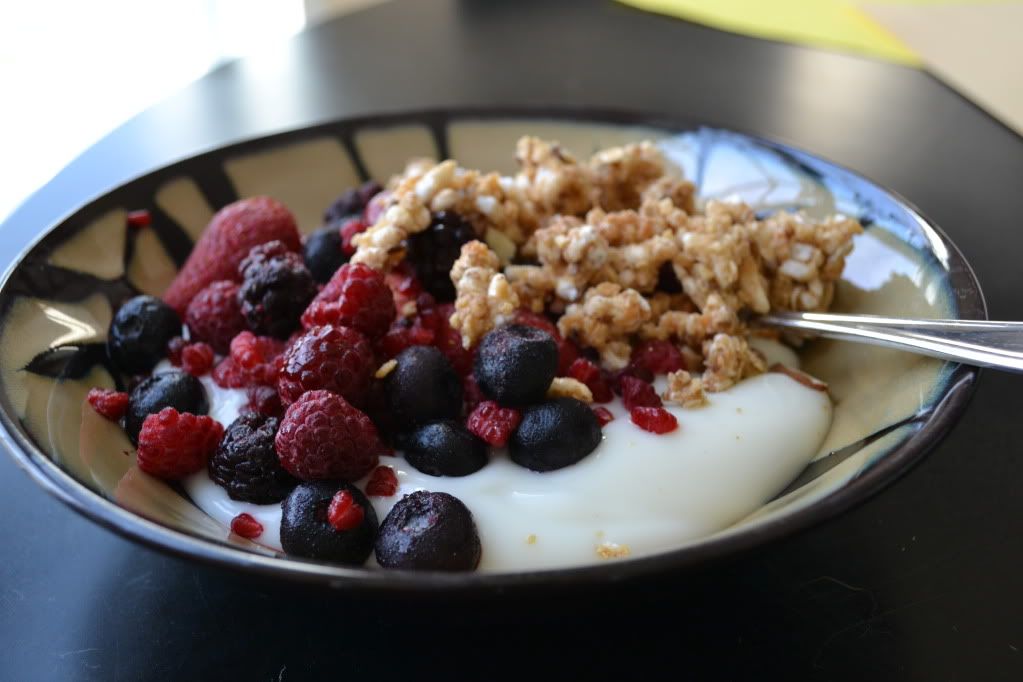 Have a fantastic day, everyone!
Steph