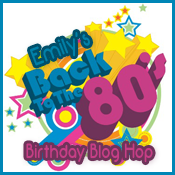 HI! I hope you are all enjoying the hop so far!
I was super excited to participate in this FUN 80's Blog Hop for my dear friend Emily Lanham! I am a proud product of the 80's and love taking a little step back in time to help celebrate!
So... when I think of the 80's, I think of fun, bright colors, graphic, bold design, and all the quirky catch phrases that have seemed to stick around throughout the years! I decided to break in my new KNK Zing to create a very bold and graphic card for the hop! Also, I thought it would be super fun to include a sentiment that fit the occasion... I think I love it... haha!
I cut the shapes from my Basic Grey Lauderdale 6x6 pad- the colors were PERFECT for an 80's theme- bright and beautiful! I kept the design very clean and graphic and added a sentiment that just so happens to come out of my mouth from time to time (I'm not ashamed.... haha!), "Dude, you're totally awesome!" LOL! Love it! The font is called 80's Neon- just what I needed!
Thanks for stopping by today! I wish Emily the very happiest of birthdays and I am SO glad I could help her celebrate! Make sure you stop and comment on all the blogs in the hop for your chance to win one of several prizes! There are some great 80's themed prizes up for grabs!